Can a Child Ride in a Commercial Truck?
Trucking can be a lonely occupation. Being away from home, loved ones and friends can get tough — and that's especially true if you're a trucker with children. Missing out on that quality in-person time with your kids is one of the worst aspects of a trucking job, which is why one of the most frequently asked questions a new truck driver has is, "Can I let my child ride in my truck?".
The short answer? Technically, yes! It isn't illegal to let a child ride in a single cab truck provided that you follow all the rules and laws of the road. If you prepare properly, then letting your child ride with you in your truck can be a great experience for everyone.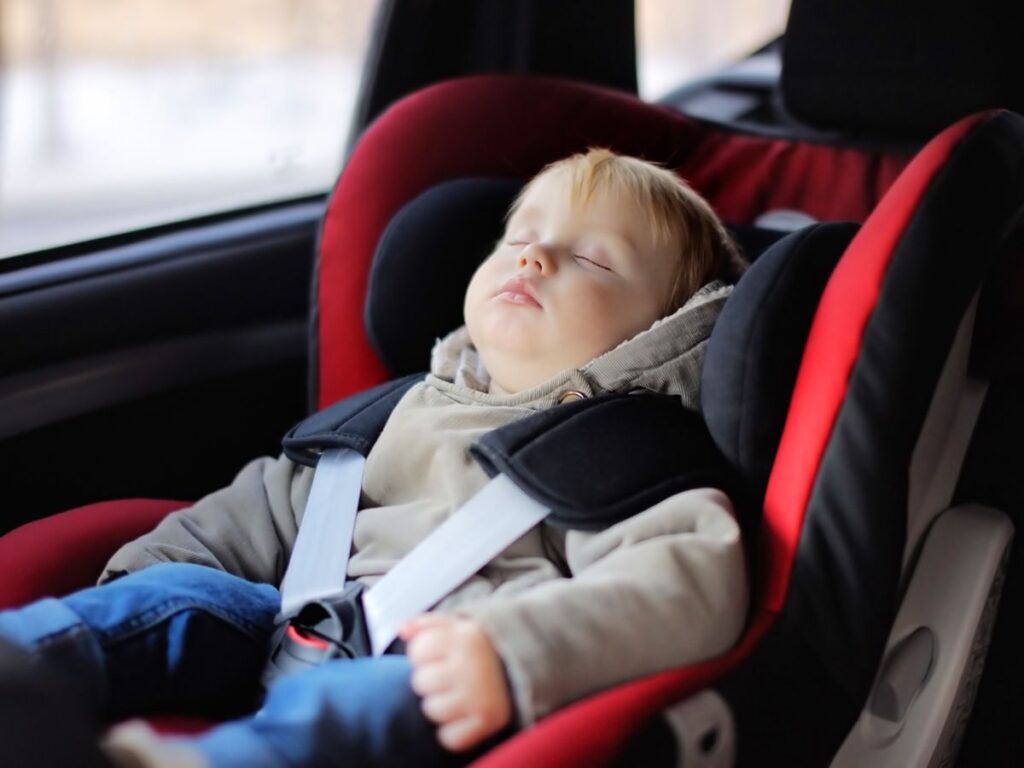 Is it Illegal for a child to ride in a truck? What the law says
There are no federal laws that prohibit passengers from riding in a commercial truck. There are also no federal age restrictions on passengers that make it illegal to let a child ride in a commercial truck.
But that doesn't mean you can load up the family in your semi-truck tomorrow and hit the road! If you want a passenger to ride with you on your next trip, there are three important laws to keep in mind.
1. You must have the right insurance for your passenger.
If you drive for a trucking company, then they will likely require passenger insurance before they allow your passenger to ride. If you're an owner-operator, be sure to check with your insurance company about passengers to make sure everyone is covered during the drive.
2. Any passengers, especially babies and children, must be secured when driving.
Seat belt laws vary from state to state, but most states require safety belts for all passengers who ride in the front of a vehicle. Car seat laws also vary from state to state — you can find a good resource for these laws for each state here. Both of these laws apply to traditional cars as well as to trucks.
3. USDOT requires authorization for your passengers if you drive for a commercial company.
If you drive for a company, then the DoT will require valid written authorization from your motor carrier that allows you to transport passengers. Authorization should remain with your employer, but you may also carry a copy with you when you drive.
Can commercial drivers let a child ride in the front seat of a single cab truck?
It often depends on who you're driving for. It may be legal to allow a passenger to ride in your truck, but that doesn't mean every trucker will be able to carry a passenger.
While federal law doesn't prohibit passengers in commercial trucks, we can't say the same for every trucking company. Many commercial trucking companies have passenger policies in place to help protect you, your rider, and the company itself.
Rider policies vary from company to company, so you'll have to ask your company exactly what their policy is on passengers. Examples of some of the more common policies include things like:
The driver must disclose the travel dates and the trip itinerary, including stops and the end destination.
The driver must buy company-approved passenger insurance.
The driver must have been driving for the company for a certain period.
The passenger must be over a certain age to ride.
The passenger must be related to the driver by birth or by marriage.
The passenger must not have a CDL, a chronic health condition, or be pregnant.
And the most important rule? Always get written authorization from your employer that will allow you to carry a passenger in your truck. That one's not just company policy; it's the law. It is not legal to allow a passenger to ride in a commercial truck without this permission. And be aware that obtaining authorization often includes lots of paperwork and may require your passenger to provide documents such as a driver's license, social security card, and insurance information, among other things.
If you are an owner-operator, you're not bound by the same restrictions as truckers working for a large company. That's because it's your truck, your business, and your rules about which passengers can ride.
However, it's still important to have insurance for your passenger before they ride. Be sure to speak to your insurance company and keep in mind that most insurance companies won't approve of transporting young children in a truck.
The first rule for child passengers: put them in a booster seat or in a car seat
You've finally jumped through all the hoops and you're ready to let your child ride in your truck next time you hit the road — but have you thought about their safety yet?
Most big rigs don't have airbags in the cab, which means that children are safer sitting in the front of a truck than in the front of a traditional car. That (and the fact that cab space is often limited) may tempt you to reconsider a booster or car seat. Don't!
We'll be very clear here: it's illegal for a child to ride in a truck without the proper safety measures! For older children, this means a safety belt; for younger children, it means a booster or car seat. Keep your child safe by ensuring that they ride in a car seat while riding in your truck.
Not sure what type of car seat your child requires? The NHTSA offers a convenient car and booster seat guide to help you make sure your child is in the right one.
How to install a child seat on front seat of a truck
Most child safety seats are designed to fit in the back of traditional cars, which might make you wonder, "How do I install a car seat in a truck with no back seat?"
Installing a car seat can indeed be difficult in a cab with limited space, but that doesn't mean it's impossible to let a child ride in a single cab truck in a car seat. And remember that keeping your child in a booster seat or in a car seat that has been properly installed could mean all the difference if you're involved in an accident.
Here are the main things to keep in mind when installing a child's safety device in your truck.
The seat of the cab should support at least 85% of the car seat base. Any less and you may have to find a different safety device for your child.
Most young children ride in forward-facing car seats up until the age of five. If the car seat is forward-facing, you must secure it with the top tether as well as other anchors. You can use your truck's anchor points or — if you're in a pinch — the webbing loops in your truck.
Rear-facing seats are necessary if you're driving with a baby or infant and are only allowed in the front of a truck if there are no active airbags. You can install a rear-facing seat in a truck with no back seat just as you would in a traditional car.
Booster seats must sit firmly on the seat in the cab and allow the child to ride while properly wearing a lap and shoulder belt.
If you have any questions about a child safety device that you've installed in your truck, always get a professional opinion. Police stations, fire stations, hospitals and other locations can offer car seat inspections to ensure everything is correctly installed.
The best way to travel with a baby or children in your truck
You've done the work to let a child ride in the front seat of a single cab truck. You've filled out the paperwork. You've talked to insurance. You've installed a car seat. Is there anything else?
Yes! Remember that driving with any passenger in your truck — especially a baby or children — is a very different experience than completing your route alone. It's important to consider how to handle life on the road with a child passenger.
Comfort
Your child's comfort is one of your top priorities during the ride. Be sure to consider how long they'll be comfortable on the road, especially in the small cab of a truck. You should also remember that kids need more active time than adults. It's always a good idea to plan for more frequent stops throughout the journey to let your child stretch and move, especially after a long ride.
Safety
How will you keep your baby or child safe on the road? We've already discussed the need for car seats and other safety measures during the ride itself, but that's not all. It's also important to consider how to keep your child safe during stops and breaks at truck stops, restaurants, activities, and your final destination. Always keep a close eye on your child to ensure they're safe no matter where you are.
Fun
We know you can't completely change your itinerary to make every moment enjoyable for your kid. But that doesn't mean you can't still have fun! Take the time to map out interesting places to stop on your journey or drive through a particularly scenic area. You should also be sure to plan for or pack activities to enjoy together in your truck during the ride such as books, games, music, or podcasts.
Drive together, grow together
There are plenty of reasons why you might want to bring your child with you for the ride the next time you're making a delivery. Some parents — such as single parents — do it out of necessity. Others bring passengers to help combat loneliness on the road. But the main reason to let your children ride with you? Because it's an experience!
Trucking with your child offers you in-person bonding time, but it can also do so much more. It creates opportunities for your kids to see what you do for a living and lets them experience the excitement of riding in a big truck. It gives them a chance to travel to new and exciting places. Best of all, it gives you both a chance to make memories together that will last a lifetime.
It might take some work, but it will be worth it in the end. Few things are as memorable as sharing the exhilaration and freedom of trucking with your children.
Logity Dispatch: Taking care of truck drivers in every way
Here at Logity Dispatch, we take care of our truckers in every way that we can.
Whether that means helping with dispatcher services, FMCSA/DoT requirements, or answering all your frequently asked questions, we're here for you. From expert services to engaging blog topics, our team is ready to help you find all that you need to become a better, more successful truck driver.
No matter where you're based or where you drive, you can find the resources, knowledge, and support you need at Logity Dispatch. Visit our site today to contact us online or call us on 1 (302) 467-20-14.