How to Unload a Truck Without a Loading Dock
Destuffing or stripping a shipping container or semi-truck trailer can be tricky without access to a loading dock. There are several options to choose from when you need to know how to unload a truck without a loading dock. Which one you go with ultimately depends on your operation and budget constraints. Established operations may wish to invest in the equipment they can use every time they need to unload a truck without a loading dock. But if it is a one-time situation or a shorter-term project, renting the needed gear may make more sense, especially for budget-conscious businesses.
Unload a Truck Without a Dock
Buying a Mobile Yard Ramp
Renting a Mobile Yard Ramp
Rollers for Unloading Trucks
Getting a Pallet out of a Truck Without a Loading Dock
Logity Dispatch Makes Unloading Freight Easier
Two options exist for loading and unloading freight containers without the benefit of a loading dock. The first option requires you to leave the container on the chassis. You must lift the cargo between the container and the ground or use a mobile yard ramp or rollers for unloading trucks. The second option involves placing the container on the ground before attempting to unload it. Several different pieces of equipment can help with the task if you choose to go with option number two. We will discuss this in more detail later.
Keep reading for some valuable tips on how to unload a truck without a loading dock that can help any size business.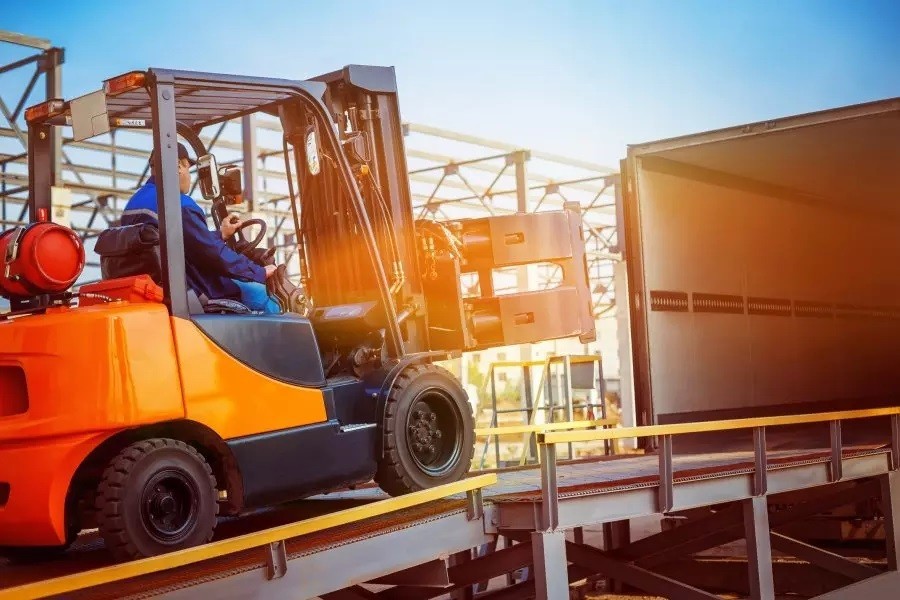 Unload a Truck Without a Dock
It is inconvenient but not impossible to unload a truck without a dock. Without a loading dock or lift gate, deploying a little bit of creativity and some handy tools can make the job easier. We already mentioned there were two basic options for how to proceed. Let's explore the methods associated with option number one first, which is keeping the container on the chassis.
A mobile ramp is one of the most efficient ways to get freight off a semi-truck without a loading dock or lift gate to assist. Portable yard ramps are commercial ramps with a weight capacity high enough to handle most freight. They can accommodate a forklift or mobile dolly, which you will need to get the freight off the chassis. You can use them to load or unload a container or tractor-trailer. Most mobile ramps are designed to include a level-off at the top so a forklift can more easily access the cargo on either end of the ramp.
Buying a Mobile Yard Ramp
Once your business decides a mobile yard ramp is the best solution, the next decision involves whether to buy or rent one. Buying is a smart choice if your company must unload freight from containers or trucks frequently without a loading dock or lift gate. Some mobile ramp manufacturers offer both new and used versions of their ramps.
How much a yard ramp costs depends on several factors, including the length and width needed, plus whether it is new or used. New yard ramps cost between $15,000 and $40,000, and used ramps can cost less than $5,000.
When deciding between new or used, there is more to consider than your budget. Given that most businesses buy a mobile ramp because they do not have a loading dock, finding a great deal on a used ramp can pose problems when it arrives on-site for unloading. You must factor in the added expense of renting the necessary equipment for delivery. Shipping long-distance to your destination can also eat into your budget, as mobile forklift ramps require a flatbed truck for shipping. Because of their size, they are usually a dedicated load for the truck driver, so saving on shipping by combining your load with another customer's is off the table.
Be sure to include these calculations in your estimate if you plan to purchase a used ramp. Some ramp manufacturers and suppliers will help their customers explore all their options and address all concerns before they make their choice.
An advantage to ordering new is that most mobile ramp manufacturers and suppliers have manufacturing and distribution facilities in several locations across the U.S., which can help reduce shipping costs. Others offer personal, on-site supervisors for more expensive products to ensure the off-loading process goes smoothly.
Renting a Mobile Yard Ramp
Renting a mobile yard ramp is an alternate solution for businesses with plans to build their own permanent loading dock in the immediate future. Temporarily using a container ramp, forklift ramp, or yard ramp makes the most sense in this scenario because it saves money. If you choose to rent, be sure to select an industry leader with a good reputation for providing quality products and customer service.
Some manufacturers and suppliers offer rent-to-own programs, which can be an option for businesses that want to buy a mobile ramp but pay for it in installments that better align with their budgets. Renting to own has several advantages, including knowing the purchase price in advance. Most manufacturers and suppliers that offer rent-to-own programs include the total purchase price in the rental agreement.
Rollers for Unloading Trucks
Mobile yard ramps are not the only option for unloading directly from the chassis. Another solid choice is using rollers for unloading trucks. These automated rollers eliminate the need for using a forklift to move your freight from the truck to your storage area. Some conveyors can accommodate up to 700 pounds per roller, so you must work with the product manufacturer to determine which model meets your needs. Rollers for unloading trucks must have adequate support from a frame. Businesses can work with the manufacturer or supplier to determine which frame works best.
Getting a Pallet out of a Truck Without a Loading Dock
Sometimes, it is not safe to use rollers or mobile yards for getting a pallet out of a truck without a loading dock. When safety is a concern, placing the container on the ground before unloading is an alternative. Several different pieces of equipment can be used for this process. Here is a breakdown of everything you need.
Cranes come in a variety of designs and lift capacities, making them a solid choice for placing containers on the ground for unloading. You can rent them from a mobile crane service. However, businesses that regularly unload freight this way may find renting cost-prohibitive. A more budget-friendly solution involves installing an overhead crane or gantry on site.
Forklifts, mini-straddles, and reach stackers work well for unloading and have the added perk of allowing businesses to avoid the cost of renting a crane. These three pieces of equipment can lift containers on and off the chassis. They can also move and stack containers around the site. However, all these benefits do have one major drawback. New pieces of this kind of equipment can cost as much as $350,000. Add in maintenance costs, and it might be out of reach for some budgets.
C-lifts help with putting a container on the ground for loading or stripping. They come in a variety of models designed to suit every need. Some are portable and can be taken out into the field. Others are high-capacity, automated lifts perfect for steadier container volumes. Automated C-lifts can replace the need for an unloading dock entirely, extending the capability of any site or warehouse. Businesses can create multiple points of entry for products at a fraction of the price they will pay to install a loading dock. They have a high lift capacity while offering the added benefit of being compact and portable. But if stacking or moving containers is a priority for your business, a C-lift cannot accommodate that need.
Logity Dispatch Makes Unloading Freight Easier
Logity Dispatch offers the support and resources businesses need to get products to their warehouses or another permanent site. Reach out to our friendly team online or by phone at 302-425-9299 to coordinate the details, negotiate rates, and search for loads.