Company Formation
Filing the Certificate of Incorporation
Title for trailer and trailer registration
Help with all the fillings and documents
Contact us for free setup
Company formation
So you've decided that you want to work in the trucking industry. You love to drive. You love to help people and businesses. You want to be an integral part of today's economy. You want to start up a trucking company but don't quite know how, or you are familiar with the process but want some support to ensure that you do everything right. Logity Dispatch is here to help. We can help you create the company, register your trailers and vehicles, and get all the necessary documents and paperwork to get you up and running. We're happy to support you, whatever stage in the process you are.
Creating the Company
When creating your company, there are a number of steps to take according to the General Corporation Code, including:
Picking the company's name and carrying out a business name check
Choosing a type of corporation based on your business model and structure — sole proprietorship, general partnership, limited partnership, corporation, and limited liability company are the most common
Filing the Certificate of Incorporation
Appointing a registered agent, preparing corporate bylaws, appointing directors, and holding the first board meeting
While we can't provide legal advice, we can certainly help you handle all the filings and documents.
Logity Dispatch's job is to provide the best loads in the market for every driver. Our expert team ensures that drivers from any region and state get high-quality and best-paying loads.
Contact us for free setup
Title For Trailer and Trailer Registration
Whether you buy or lease them for your business, all trailers must be titled in Delaware and registered. Only then will the state permit them on highways.
How to Get a Title for a Trailer
The title for the trailer process typically starts at the DMV — but you can fill in forms online to save time. If you have purchased or leased the trailer, the prior owner/seller or lessor should have completed a transfer of title into your name. This is proof that you own the trailer. If you bought the trailer brand new from the manufacturer or dealership, you will need to fill out a title application.
Registering Your Trailer
Trailer registration is simply a matter of providing the DMV proof of ownership (the title or bill of sale of your trailer) and filling out the registration application. You will, however, have to prove that you have paid all applicable taxes and obtained the proper insurance for your trailer.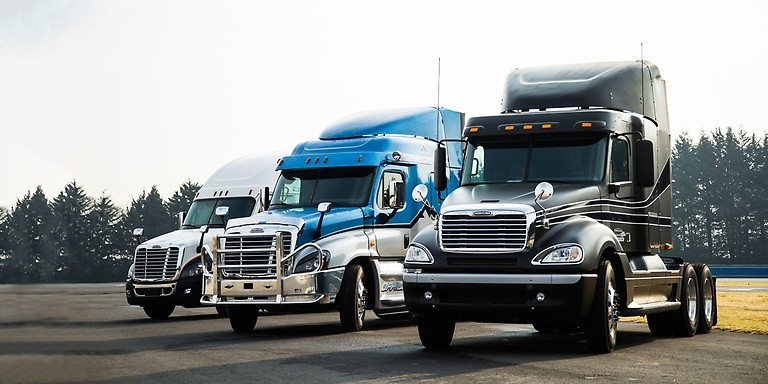 How Much Does Title and Registration Cost for Trailer
Assuming there is no lien on your trailer, the fee for the title is $55. The yearly registration cost for trailers — going by weight — is as follows: $15 for up to 1,000 pounds; $20 for 1,001 to 2,000 pounds, $40 for 2,001 to 5,000 pounds; and for trailers weighing more than 5,000 pounds, there is an additional $18 for every 1,000 pounds.
Note that if you are going to move loads through different states, you will need to obtain "apportioned registration." You complete this registration in your home state so that you can hop through other jurisdictions without having to get multiple permits or registrations. You pay fees everywhere you operate, proportional to however many miles you log in each state.
Heavy Highway Vehicle Use Tax
In addition to your regular business taxes, as a carrier, you will need to remit a heavy highway use tax return to the IRS every year. This tax applies to operations involving vehicles with a gross weight of 55,000 pounds or more on public highways.
The Heavy Highway Vehicle Use Tax return or HVUT is a yearly federal tax paid to the IRS for operating heavy vehicles at a gross weight of 55,000 pounds or more on public highways.
Taxable vehicle gross weight is calculated as follows: (1) the fully equipped, unloaded vehicle weight; (2) the fully equipped trailer or semi-trailer; and (3) the maximum load weight carried on the vehicle and attached trailer or semi-trailer.
How to Check Driver Record
If you are going to be hiring drivers for your trucking business, you will request a motor vehicle record check for each person. There are two ways to get a motor vehicle driving record of someone other than yourself: in person or via mail. You can choose to obtain a three-year, five-year, or full driver record, and each report will cost you $25.Any questions about the process, or want to know how Logity Dispatch can get your business on the road? Contact us today.

Mike Sountris
M&L Transport LLC, MC # 25167
Logity Dispatch is Awesome-
This company is everything a truck driver should expect from a dispatch company. They negotiate with the brokers to get great rates, they call you to offer loads for the next day and they handle getting revised rate confirmation for detention pay & lay overs. I'm glad to have them working for our company!
Jay Sanders
Drive Logistics, MC # 1106770
Place my trucking business in Logity Dispatch's hands and haven't needed another dispatcher since. Outstanding Communication, very knowledgeable of the business, and they don't break the bank on percentage. Worth way more than other companies charging 10+ percent. Thank you, guys.
Eric Freeman
MC # 104970
Logity has been very good for my trucking company, very strong negotiators.
Andrei Chirkov
Trucking Alliance LLC, MC # 125359
We have been working with Logity Dispatch for a year now and I have nothing but good things to say. The service these guys provide is awesome and I don't need to waste my time searching for loads, billing and all that stuff. Communication, support, market knowledge are on high level and these guys worth the percentage they charge.
Very simply, we buy you time so you can make more money. Most owners-operators get into this business to drive loads and make money, then find themselves bogged down by all the paperwork, regulatory requirements, and negotiations — things that keep you from doing what actually makes you money. By taking on all the business support activities you would like to offload, Logity Dispatch allows your business to run efficiently — and for you to take on more loads. In addition, when it comes to negotiating, we aim to get you the best rates for your loads, so you get to put more money in your pocket.
Surprisingly, no. If you want to recruit capable and competent talent, you need to develop and undergo a pretty vigorous recruitment process, which takes time and — if you need the services of headhunters — money. Even if you find what you are looking for, you will most likely need to provide office space — yet another expenditure — and in some cases, further training. Meanwhile, as many of our clients have admitted, hiring Logity Dispatch turns out to be more cost-effective than even having one full-time dispatcher. Our industry expertise, networks, and experience make us the best at what we do.
Nope. You hire Logity Dispatch on a month-to-month basis. We don't make trucker drivers commit long-term upfront because we believe in earning your business. If you aren't happy, we aren't happy, so we'll work hard for you. But we also believe that all business owners should have the freedom to work with whomever they want. It's important for us to keep that freedom for you.
Signing up with Logity Dispatch is a breeze since you can submit documents to us online.
- First, you sign our Dispatch Carrier Agreement, a document that clearly sets out our responsibilities and our responsibilities. This is meant to protect both of us — it is not a long-term service contract by any means. Our services are month-to-month, and you are not penalized for discontinuing our service.
- You will also need insurance that names Logity Dispatch as the certificate holder. This is common industry practice for shippers, dispatchers, and brokers — it just allows us to conduct business at your behest and on your behalf when you want us to. Make sure the insurance sets out liability as well as cargo coverage.
- We also need the Carrier Set-Up Package and references for the shippers and brokers we work with and for our records. Your MC Permit and signed W9 form should be here as well.
- At Logity Dispatch, we keep impeccable and accurate records — and always maintain compliance with all safety, regulatory, and industry requirements — so we also need a copy of the CDL for each driver we will be dispatching.
Absolutely. We love helping truck drivers and carriers in all stages of their careers. What we look for are keen, hardworking drivers, period. Realistically, if you are a new carrier, it may initially be harder for us to find you the best loads because most shippers and brokers prefer carriers with MC authorities more than six months to a year old. However, you can rest assured that Logity Dispatch will give it our all so you can make better money in your first year. Once you hit the one year milestone, access to better rates and loads will be even easier.
We provide our clients with truck dispatching, billing, paperwork, factoring service, rate negotiation, IFTA reporting, accounting and other services. You can either choose a comprehensive service package or several products that you need for your business.