Freelance Truckers – All You Need to Know
Trucking is a popular and lucrative job space for millions of Americans. There are generally two ways that a truck driver can tap into this industry — as a trucking company employee or a freelance truck driver. The latter is increasingly becoming an attractive option to many drivers. So, if you're thinking of starting off or switching to freelance work, you're not alone. According to the U.S. Bureau of Labor Statistics, about 1.8 million Americans earn a living as truck drivers. The OOIDA estimates that 350,000 to 400,000 of those are owner-operators (freelance truckers).
What is freelance trucking?
The pros and cons

Job independence
Career and businesses development
Higher income
Lacks stability
Finding work can be tricky
Everything falls on you

How to become a freelance truck driver

Understand what you're getting into
Decide whether to buy or lease a truck
Get the necessary qualifications and licenses
Work out the job's logistics

Getting started as a freelance truck driver
Let's talk about freelance truck drivers — who they are, the job's pros and cons, and what it takes to become one.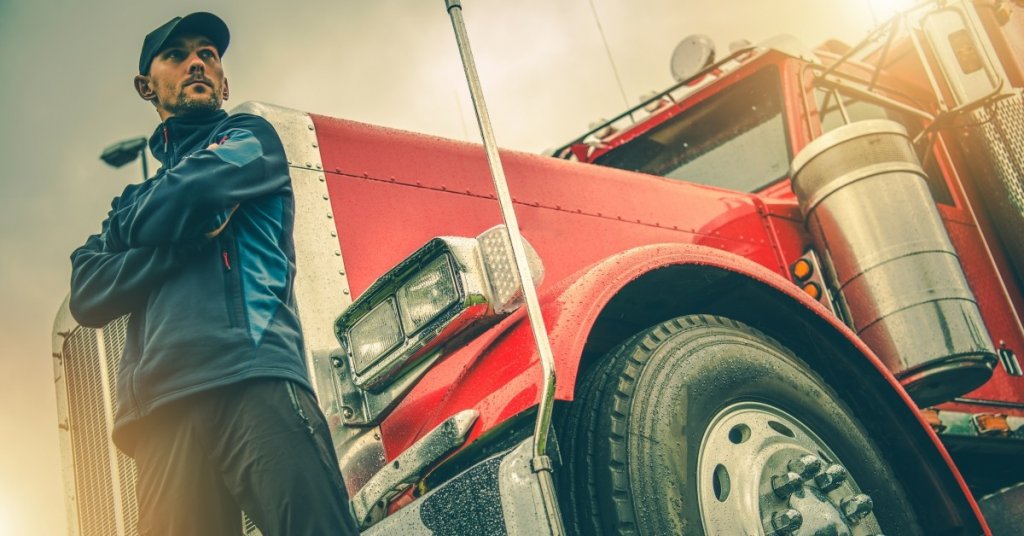 What is freelance trucking?
A freelance truck driver, also known as a hotshot trucker or owner-operator, is a self-employed truck driver who hauls cargo for customers on a contract basis. These drivers do not work for a specific company or client and don't have to follow a particular route.
In other words, a freelance trucker is their own boss. They choose the jobs they want to take and set their own schedules, terms, and rates.
The pros and cons
The independence of hotshot trucking is tantalizing; it sounds like every trucker's dream job. But the truth is, freelance trucking is not for everybody and has its ups and downs. While considering venturing into this space, you should first understand and weigh all the pros and cons of the business.
The pros:
Job independence
As a freelance truck driver, you have complete control over what you want to do. For instance, you could choose to work only on certain days of the week, within a particular region, or along specific routes. This means you can structure a work-life balance that suits your lifestyle. Ideally, most job decisions come down to your preferences and income targets.
Career and businesses development
Working for yourself allows you to spread your wings and take swings that would otherwise be impossible from an employee's position. Being a freelancer gives you a unique perspective of the industry and presents an opportunity to develop a long-term career, business, or brand. If it's any inspiration, many of the biggest freight companies in the country, including Werner Enterprises, R+L Carriers, and J.B. Hunt Transport Services, have humble beginnings as one-man shows.
Higher income
According to Indeed, an owner-operator can earn about $300,000 a year, while the annual base salary of an employed truck driver is approximately $68,000. Of course, the employed driver has no trucking expenses to worry about, but this is still a vast income delta.
The cons:
Lacks stability
Freelancing work, even outside the hauling industry, is inherently unpredictable. Transport demands may fluctuate drastically over short periods, and other external factors such as weather may affect work availability. Being your own boss does not guarantee a stable work routine, making it hard to project periodic income and growth.
Finding work can be tricky
Finding work is one of the biggest pain points of being a freelance trucker, especially for new entrants. Going at it alone and without great connections in the hauling market can be a big hassle. Most truckers prefer to work with independent companies to find suitable loads and clients.
Everything falls on you
Freelance trucking is more about running a business than actually driving. In addition to being the driver, you also have to be the accountant, customer contact, route manager, dispatcher, and job hunter. All these responsibilities can become overwhelming as your clientele grows.
How to become a freelance truck driver
Being a hotshot driver can be liberating if the pros and cons work in your favor. Here are four steps to becoming an owner-operator driver:
Understand what you're getting into
Freelance trucking is very different from working for a freight company. Although it's quite rewarding, getting started is often fraught with challenges. Take time to prepare yourself mentally and financially for the job. Plan for the job's unpredictability, responsibilities, and possibilities of delayed payments. And remember that you won't have a monthly paycheck to fall back on.
Decide whether to buy or lease a truck
You could either buy or lease a rig or, depending on your target clients, you may not need one at all. Purchasing vs. leasing usually comes down to your financial situation. Generally, buying gives you more control over your business than leasing. The important thing is to get a truck that can handle the kind of cargo you plan to haul.
Get the necessary qualifications and licenses
Before you can operate as a freelance truck driver, you need to have a legitimate business and the relevant state-issued Commercial Driver's License (CDL). After acquiring your CDL, get the business name registered (sole proprietor is best in this case) and apply for a USDOT number via the Federal Motor Carrier Safety Administration (FMCSA). From there, apply for your Motor Carrier (MC) number to get operating authority.
Both the MC and USDOT numbers identify you as a carrier for hire. Other compliance requirements may include freight or truck insurance, health and safety, and electronic logging.
Work out the job's logistics
The first and biggest challenge of the job is finding work. Advertise yourself through online directories, referrals, and trucking agencies to get the ball rolling. Next, take care of all the nitty-gritty of trucking, from route planning and dispatching to rest stops. Once the contracts start rolling in, you need to develop a system to manage your finances — bookkeeping, calculating expenses and profits, tax compliance, and cash flow planning.
Getting started as a freelance truck driver
Freelance truck driving has many attractive perks, but it can also be challenging, especially for newbies. The biggest headache of all is getting enough jobs to lift the business off the ground and sustain it with a steady income flow. Another burden is trying to juggle endless trucking logistics and driving long hours at the same time. But don't worry, there's an easy solution for all these problems.
Partnering with Logity Dispatch can make transitioning to freelance work so much easier. We take care of all the groundwork, such as finding cargo, negotiating rates, managing compliance and paperwork, billing clients, factoring invoices, and more so you can focus solely on driving and growing the business. Contact us to get started.