The Best Sleeper Trucks for Your Life on the Road
When you spend your life on the road, good sleep is absolutely crucial. Whether you're an owner-operator or a company driver with a regular vehicle, the truck you drive across the country soon becomes your home on wheels. Interstate trips can last days at a time, with sleeper cabs allowing you to doze in your rig and wake up refreshed. Let's take a look at the best sleeper trucks on the market, from industry heavyweights like Freightliner and Peterbilt to hotshot trucks with custom sleepers.
Types of Heavy-Duty Trucks
The Importance of Truck Sleeper Cabs
Benefits of Sleeper Trucks
Sleeper Cab for Truck Makes and Models

Freightliner
Volvo
Peterbilt
Kenworth
International
Hotshot Trucks with Sleepers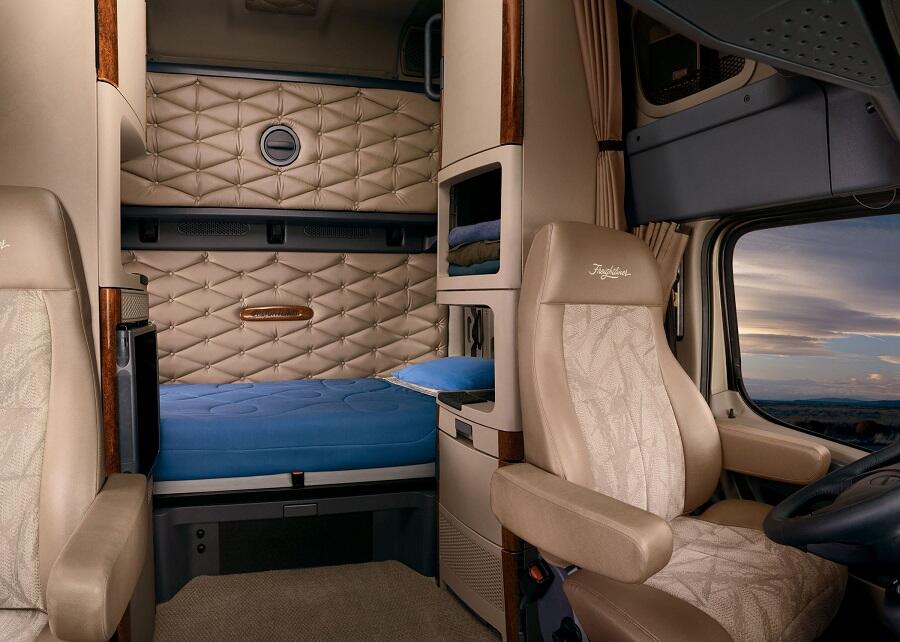 Types of Heavy-Duty Trucks
For well over 100 years, trucks have played a massive role in the transportation industry. While trucks may be simple machines, modern heavy-weight vehicles are a technological marvel when it comes to design and efficiency. Heavy-duty, or on-highway trucks, include all trucks with a total capacity that exceeds 26,001 pounds. This includes Class 7 models ranging between 26,001 and 33,000 pounds, Class 8 models ranging from 33,001 to 60,000 pounds, and Class 9 vehicles above 60,001 pounds that defy classification. Tractor-trailers, most of which are 18-wheelers, can carry up to 80,000 pounds of freight legally across the country.
The Importance of Truck Sleeper Cabs
Working in the transportation industry can be challenging and rewarding in equal measure. While there's nothing like being on the open road, freedom is balanced out by long working hours, loneliness, and time spent away from home. In order to make it as a professional driver, you need to look after yourself and reduce your expenses. A safe and productive trucking life depends on many things, from the hours you log and miles you drive to the quality of your truck and equipment.
While your truck's engine and load capacity define how much you can carry, your sleeper cab has just as much influence over your comfort levels and safety. Much more than a bed, modern sleepers have chairs, TVs, fridges, and storage options, among many other features. There are multiple sizes and configurations available, including custom tractor-trailer units with build-your-own sleeping cab options.
Benefits of Sleeper Trucks
When you get a dedicated truck cab for sleeping, you will experience the following benefits:
Improved rest and safety on the road;
Enhanced relaxation and comfort;
Less money spent on accommodation;
Better freight security;
Extended miles and jobs;
Increased working hours and pay.
Sleeper Cab for Truck Makes and Models
There are lots of sleeper cab options on the market, from snug units with little more than beds to expansive designs complete with headroom, tables, and wardrobes. The following truck companies lead from the front in design, manufacturing, and after-sales support.
Freightliner
Freightliner is a top tractor-trailer company with a solid industry reputation. Freightliner highway trucks come in all sizes and operational capacities, from small day trucks to crew cab designs and fully-featured sleeper units. These trucks are built to handle all loads, with aerodynamic design features combined with 350-600 horsepower engines and fuel efficiency.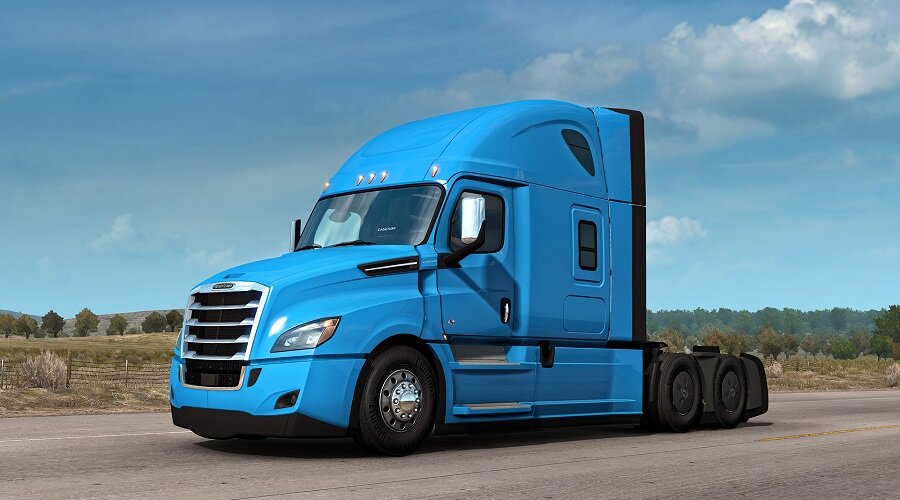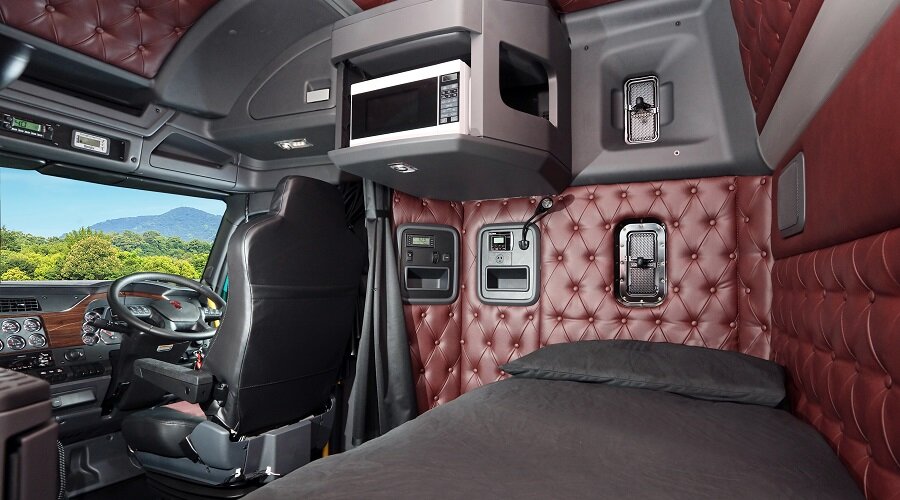 Depending on the model, Freightliners can be less expensive to buy and operate than brands like Peterbilt and Kenworth, which is one of the reasons for their popularity. This company offers a range of trucks with sleeper cabins, from simple designs to models that extend 5 or 6 feet beyond the day cab. The Cascadia semi-tractor unit is a popular model. This truck features a luxurious high-top interior with enough space for overhead storage or even a second bunk.
Volvo
Volvo is famous for its family station wagons, but it also excels in trucking comfort and safety. While Volvo is now owned by Chinese auto group Geely, owners still benefit from Swedish design and safety standards. These trucks feature lots of space to stretch out, along with advanced amenities to make your life easier on the road. While Volvo is not immersed in American folklore, they are the fifth most popular heavy-duty truck manufacturer in the United States and the second most popular worldwide.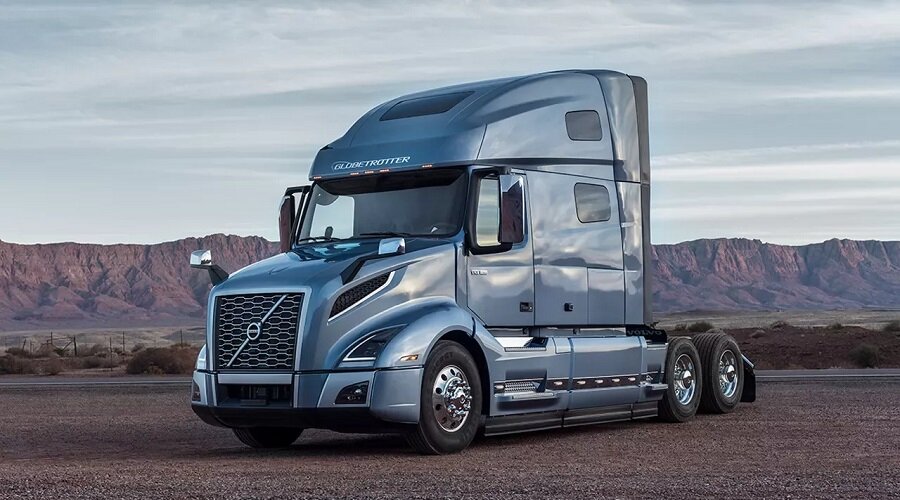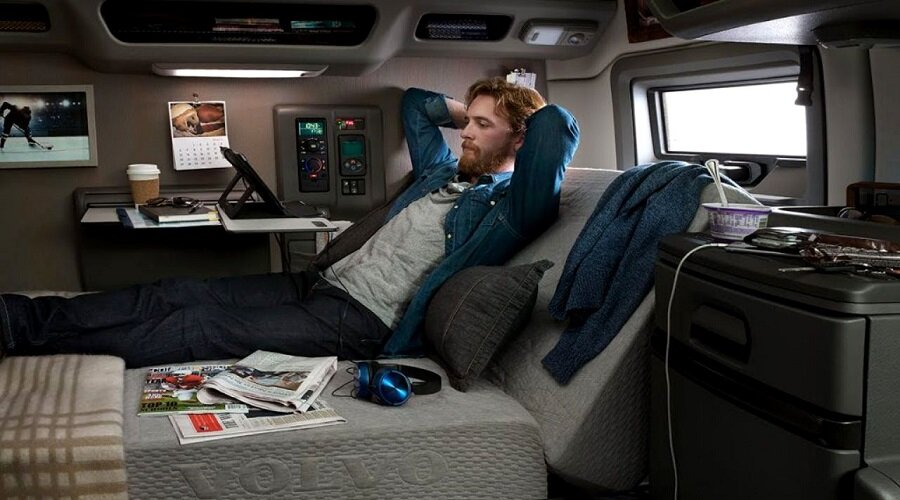 The VNL 860 sleeper cabin is Volvo's top model. This truck is factory-made with more than 77 inches of sleeper space, which is enough to satisfy most demanding truckers. With lots of height, this cab features an integrated telescopic ladder with large steps to get into the top bunk safely. If you don't need quite that much comfort, Volvo also offers the 70-inch-long VNL 760, the VNL 740, and the affordable VNL 400 with integrated flat-roof sleeper tractor. If you don't like the stock models, you can build your own VNL for a truly custom creation.
Peterbilt
Peterbilt trucks are an icon on American roads, with their long nose and classic shape a common sight on rear-vision mirrors from east coast to west. Owned by the global giant Paccar, these trucks have aluminum bodies and are available with alternative fuel options. While Peterbilt rigs can't handle extra-heavy loads, they are ideal for many overnight and interstate applications.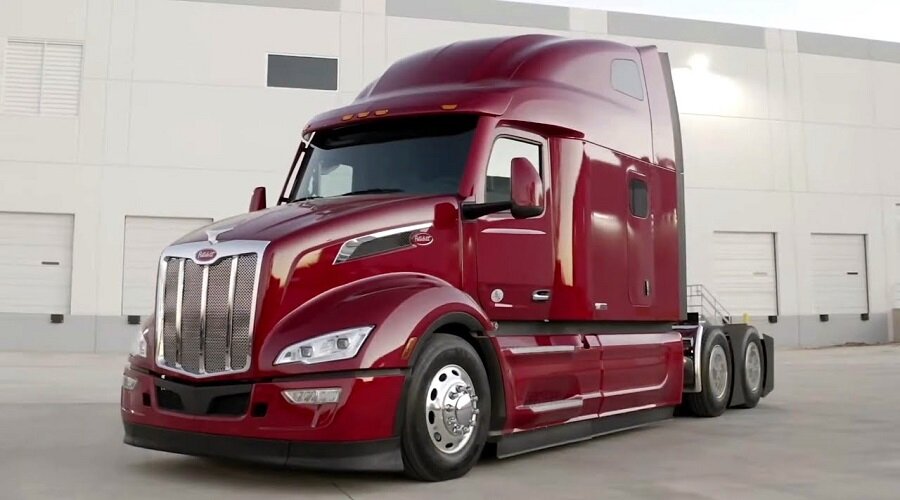 The Peterbilt 579 leads from the front in power and performance, not to mention aerodynamics, fuel efficiency, and driver comfort. These vehicles are made by truckers for truckers, with a user-friendly interior offering all the comforts of home in a smaller package. You can expect 70 cubic feet of storage, basic office facilities, and the largest mattress in the industry. If you want something a little smaller, the 389 is a unique sleeper with great shelving, sufficient storage, overhead lighting, and interior cooling for comfort in any environment.
Kenworth
Kenworth is a Seattle trucking company owned by Paccar, which is the same company that owns Peterbilt. These trucks are loved by many, with sleek and elegant design features combined with powerful engines and feature-rich interiors. Kenworth is owned and operated by truckers, and experienced industry professionals regularly consult on sleeper design, among other features.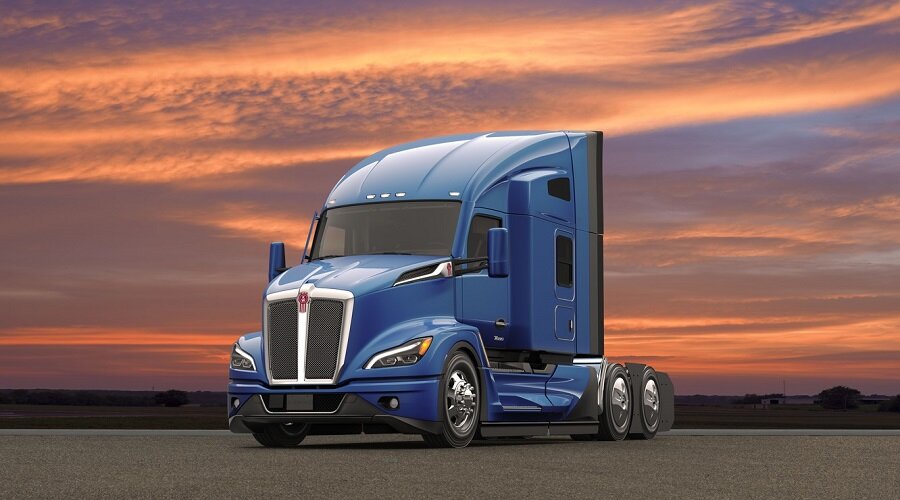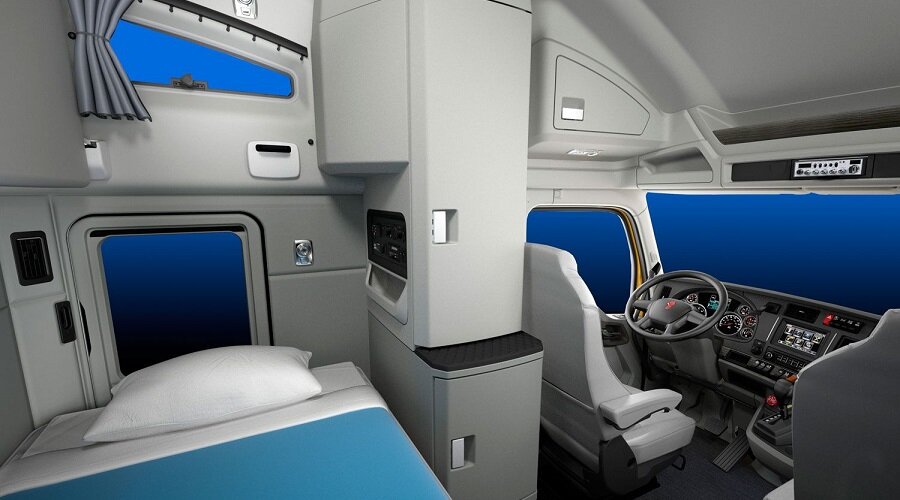 The Kenworth T680 has a passionate following among interstate truckers who like to be comfortable. This model features an optional Drivers Studio package for a touch of luxury, with multiple design features available. You can choose to sleep on anything from a 40-inch bunk on a shelf to a 76-inch high roof condo sleeper. Other features include a table, TV, microwave, and fridge. Despite its popularity, the T680 is not the only Kenworth sleeper on the market. The W990 features presence and world-class design, and the W900L features the AeroCab with Diamond VIT interior.
International
International trucks deserve special mention, with these vehicles known for their power, performance, and great overall design. These trucks are popular among many rural trucking companies and drivers who need a versatile rig for cattle and other livestock. International on-highway models combine proven reliability with optimal fuel efficiency and iconic all-American style.
When you need a safe and comfortable sleeper, International offers models like the Lonestar and LT series. Both of these trucks provide heavy-duty performance, and both models can be built by you for the ultimate in customization. Sleeper cab options include a 56-inch low-rise sleeper, 56-inch high-rise sleeper, 73-inch high-rise sleeper, and 73-inch sky-rise sleeper.
Hotshot Trucks with Sleepers
A hotshot truck is normally a standard medium-duty truck pulling a flatbed trailer. This type of trucking is ideal for smaller loads that need to be delivered within a specific time frame. Hotshot trucks are often used to deliver loads to specific customers or locations in order to avoid downtime and lost revenue.
Hotshot trucking often involves overnight trips, with in-built sleepers sometimes installed on the trailer. This is a great way to minimize accommodation expenses, and the position of the sleeper above the gooseneck also helps to improve freight security. Hotshot sleeper cabs allow you to rest in peace, sleep in comfort, and bring your partner on the road with you.
There is no simple solution – the best semi truck sleeper for you depends on your budget and operational needs. There are lots of options available, however, so do your research and talk to the experts. At Logity Dispatch, we provide dispatching services for owner-operators and truck fleets across the United States. If you would like to learn more about our services or company, please contact our team.