Trucker rights are important to know if you plan to pursue a career in the trucking industry. Truck driving training programs teach you the rules of the road but do not necessarily cover truck driver rights. If you already work as a truck driver, it is never too late to ensure your legal rights are protected. Truck drivers have rights, whether they work as employees for trucking firms or are independent owner-operators. Prevent trucking firms and carriers from taking advantage of your lack of knowledge about laws for truck drivers by brushing up on your rights and responsibilities.
Commercial Drivers' Rights
Trucker Rights when Subjected to Coercion
Trucking Labor Laws
Truck Drivers' Rights to Time Off
Trucking Labor Laws: Employee vs. Independent Contractor
Know Your Truck Driver Rights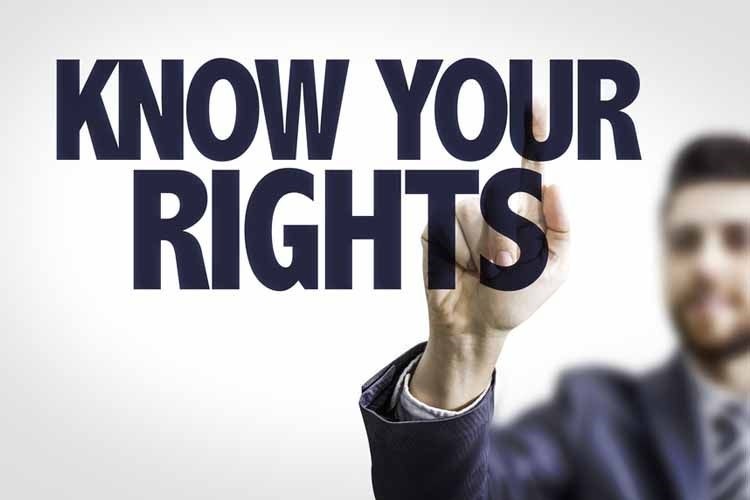 Commercial Drivers' Rights
You have rights as a truck driver. Commercial drivers' rights cover everything from being forced to operate an unsafe rig to a carrier pressuring you to ignore federal Hours of Service (HOS) regulations. Pressuring a truck driver to ignore laws for truck drivers violates trucker rights. This is called coercion and it is grounds for filing a complaint against a trucking company or carrier.
Asking a truck driver to violate Federal Motor Carrier Safety Administration (FMCSA) rules and regulations is punishable by law. Not only can the truck driver get into legal trouble for disregarding the law, but so can trucking companies and carriers. Even if a truck driver is compelled by an employer or carrier to overlook safety rules and regulations, they still bear legal responsibility if they fail to report the incident and instead go along with the illegal directive.
Trucker Rights when Subjected to Coercion
Truck drivers who believe they are victims of coercion should follow the guidelines set forth by the FMCSA to protect themselves. Adopted in 2016, the Prohibiting Coercion of Commercial Motor Vehicle Drivers rule provides truck drivers with clear rules for reporting incidents of coercion. Truck drivers directed to ignore Hours of Service (HOS) limits, commercial driver's license (CDL) regulations, and any drug or alcohol testing rules must follow certain protocols to protect themselves against punitive action and potential loss of their CDL.
The FMCSA considers it coercion when all the following occur:
A carrier, receiver, shipper, or transportation intermediary asks a truck driver to perform a task that violates provisions of the FMCSA.
The driver informs the requesting party that the task violates federal or state motor vehicle driving laws and creates unsafe driving conditions.
The carrier, receiver, shipper, or transportation intermediary make threats against employment or work opportunities if the driver refuses to go along with the requested violations.
Truck drivers must file a complaint within 90 days and include as much supporting documentation as possible.
Trucking Labor Laws
Truckers' rights are outlined in state and federal labor laws. Trucking companies and motor vehicle carriers must follow wage and overtime laws for truck drivers. Whether truckers are paid by the mile or on a piece-rate basis, the total they are paid must meet federal and state minimum wage standards. Divide your total number of hours worked in one shift by the total wages received to determine if wage law violations have occurred.
When it comes to overtime wages, laws for truck drivers are a little murkier. The Federal Motor Carrier Exemption under the Fair Labor Standards Act (FLSA) provides an overtime exemption for most truck drivers. Under Section 13 (b)(1) of the exemption, truck drivers who meet the following criteria are exempt from overtime pay:
They are employed by a motor carrier or motor private carrier as an employee (section 13102).
Their duties affect the safe operation of motor vehicles in transportation on public highways for interstate or foreign commerce purposes.
They are not covered by the small vehicle exception.
Whether you qualify for overtime pay or not, truck drivers can work a maximum of 14 hours a day, with 11 hours of that time for active driving duties. Trucking companies that try to push the limits with their drivers are violating laws for truck drivers and trucker rights. Truck drivers with questions about whether the exemption applies to them can contact the Wage and Hour Division toll-free at 866-487-9243.
Truck Drivers' Rights to Time Off
Long-haul truck drivers are on the road for weeks at a time. When requesting home time, there are some tricks you can employ to ensure your dispatcher or carrier does not conveniently forget they approved the break.
Check your contract. Some trucking companies spell out the terms and conditions for time off in their contracts with drivers. If your employer is violating their contract with you, then you have legal recourse.
Document all approved time off. Once you make a request and it is approved by your employer, make sure you get their approval in writing. You can send a friendly email reminding them of your agreed-upon time off dates and keep a copy for your records.
Keep a labor lawyer on speed dial. Trucking companies know they are beholden to labor laws. They just hope truck drivers do not understand their rights. If you are denied home time in violation of your contract, call a labor lawyer. All it takes is one call from a lawyer to get most trucking companies in compliance with the law. Federal courts have penalized trucking companies in recent years for failure to abide by time-off rules.
Trucking Labor Laws: Employee vs. Independent Contractor
It is illegal to misclassify a truck driver employee as an independent contractor. Owner-operators are considered independent contractors since they own their rigs and set their own hours of operation. Sometimes trucking companies try to force owner-operators to abide by their terms. When this happens, they are starting down the slippery slope of misclassification.
How do you know whether you are an employee? Here is the litmus test: whose truck are you driving? If the answer is that the rig you operate belongs to the carrier or trucking company, then you are an employee. To be an owner-operator, truck drivers must own and maintain their own vehicles.
Another determining factor is who owns the operating authority. Every carrier company or owner-operator must have the authority to transport goods in the United States. If the carrier owns the operating authority, then you are an employee.
Know Your Truck Driver Rights
It pays to understand truckers' rights before you get behind the wheel. Truck drivers are the heart of our domestic supply chain. They deserve to be treated fairly, which means they must know the laws for truck drivers and how to preserve trucker rights.