The United States' sprawling size and vast areas of wilderness have helped to shape its industries. Outside of the major population centers spread around the west and east of the country, huge regions have still remained somewhat less accessible. This means the logistics of moving goods and products from location to location are significant, and so long-haul trucking has become a crucial driving force for the national economy.
The History of Women in Truck Driving
The Modern Landscape of Truck Driving for Women
Real Women Drive Trucks: Why Women Who Drive Trucks Are Crucial to the Future of the Industry
Logity Dispatch: Supporting the United States Trucking Industry
Couple this with the romance and adventure of travel and the idea of supporting fellow citizens by driving the length and breadth of the country, and it's easy to see why truck driving — both long- and short-haul — has become such an important occupation here in the U.S.
An important occupation, yes, but is it a representative one? The United States' population is split roughly 50/50 between males and females, with females slightly edging it. As of 2020, the difference between male and female population figures was just over 7 million in favor of women. While this gap is closing a little each year, we can still expect there to be several million more women than men in America for years to come.
In the field of truck driving, however, we do not see the same kind of spread. Female truck drivers made up only 6.2% of all drivers in 2017, and the industry continues to be dominated by males. There is some positivity to be found here, however. The number of women who drive trucks is on the rise, so we should see a more even cross-section across the industry in the coming years.
It also looks as if truck driver women are already getting a fairer deal than they once could have expected. CNBC has reported positive pay structures in the industry, with Ellen Voie, founder of the non-profit organization Women In Trucking Association, stating, "Women and men are paid the same as drivers. The carrier sets the pay based on mileage, hours, or percentage of the load."
There is certainly still some distance left to cover before we see a more equal trucking industry for both men and women. However, at least it seems that we are moving in the right direction. The future looks to be a bright one for American women as truck drivers.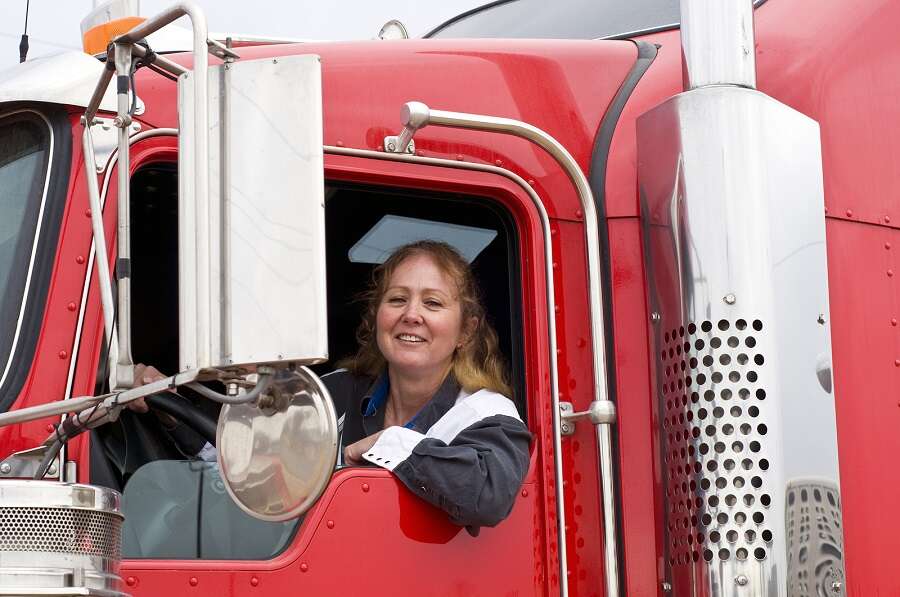 The History of Women in Truck Driving
How long have there been women driving trucks? Well, for almost as long as there have been trucks themselves. There is some debate around when female drivers made their first moves into the logistics industry, but one name that crops up time and time again is that of pioneering driver Luella Bates.
Luella Bates was born in 1897, less than 15 years after the invention of the automobile. From an early age, Bates took a keen interest in this new technology. By the time the United States joined the First World War in 1917, Bates was barely 20 years old, but this didn't stop her from serving as a test driver at the Four Wheel Drive Auto Company — a position that led to her traversing the state of Wisconsin in a Model B Truck.
After the war, she would remain with the Four Wheel Drive Company, becoming the first licensed female truck driver in the state of New York. Bates became something of a star in this fledgling industry, taking part in numerous advertising and promotional tours across the United States. She was also named "exhibit A for feminine efficiency" by Popular Science magazine — this might sound a little awkward in our more enlightened times, but in May 1920, this kind of language would have been considered the height of feminist progressiveness.
Luella Bates might have been the first of women truck drivers, but she certainly would not be the last. Several years later, another early pioneer of truck driving women would find herself battling a landmark case. Lillie Elizabeth McGee Drennan was the first licensed female truck driver in the state of Texas and a figurehead for the many females in truck driving who would follow in her footsteps. She proved herself to be an expert driver and one of the leaders in her field as she ran logistics routes across East Texas. Unfortunately, the male-dominated world of Texan trucking did not welcome Drennan with open arms. In 1929, efforts were made to deny Lillie Drennan a driver's license, effectively excluding her from the industry. She fought back, however, providing proof after proof of her driving credentials and causing such a fuss that authorities had no choice but to award her a license.
Drennan would become the sole owner of the Drennan Truck Line and would continue to promote the cause of the women truck driving industry. During the Second World War, Lillie recognized the acute need for female drivers to assist with the war effort and did her utmost to recruit these drivers.
It is upon the foundations laid by women like Luella Bates and Lillie Drennan that female involvement in this industry is built. Now, almost a century on from those milestones, female truck drivers continue to evoke the pioneering spirit and ethos of these early trailblazers.
The Modern Landscape of Truck Driving for Women
It's certainly true to say that women remain underrepresented in American trucking. However, women are certainly playing an important role in shaping the future of this industry.
While less than 7% of truck drivers are women, this figure rises to 23% when we look at management positions. Of course, this shows that women are still not fully represented in trucking industry management, but this rise is encouraging. Since Lillie Drennan's stewardship at the head of the Drennan Truck Line, there have been many other truck driver women and female-owned trucking companies providing logistics services in the United States.
Garner Trucking Inc. is one example, a trucking firm run by Sherri Garner Brumbaugh. Garner Trucking has experienced great successes thanks to the experience of Sherri, who spent 18 years at her father's business before taking the helm.
All America Transportation, operating out of St. Louis, Missouri, is another example. Since 1996, Lianne Reizer has led this firm. She works closely with other female members of her family to steer the company in the right direction.
These two companies are certainly not isolated. Andra Rush started Rush Trucking when she was only 23 years old, drawing upon her passion for logistics and her savvy business acumen to build a $400-million empire. Rush Trucking is also known for championing and furthering the careers of Native Americans in trucking — another underrepresented demographic in the industry.
Real Women Drive Trucks: Why Women Who Drive Trucks Are Crucial to the Future of the Industry
The stories of great people like Luella Bates, Lillie Drennan, Andra Rush, and countless others show us just how important women are in this industry. As we look to the future, it is clear that the logistics market will continue to play a critical role in the economy of the United States, and women will certainly be supporting this.
There may still be some distance left to travel before we see total equality in the industry, but we are already well on our way. Antiquated notions of a male-dominated industry have been destroyed by the power of fact. For example, the idea that women are not equipped to handle big trucks has been shown to be false — statistics show that women truck drivers are far less likely to be involved in serious accidents compared to their male counterparts.
Logity Dispatch: Supporting the United States Trucking Industry
Here at Logity Dispatch, we are proud to provide truck drivers with the resources they need to truly thrive in this industry. We are a reliable, unbiased dispatch firm, ready to support drivers from all backgrounds and walks of life. To discover more about our services, reach out to the team today.