The Best Snow and Ice Tires for Trucks
Driving through a winter wonderland can be a beautiful — but dangerous — experience. That's especially true if your truck hasn't been outfitted with proper winter components. Snow, ice, slush, and melting puddles are all accidents waiting to happen and can quickly turn your drive into a disaster if you're not prepared.
If you live in a cold area or are planning to do a lot of driving in one, outfitting your rig with truck tires for snow and ice is an absolute must to ensure your safety and the safety of others. Easy for us to say, right? After all, every truck driver knows that choosing the perfect set of wheels requires some real effort.
We get it — it's a lot of work! That's why we've done the heavy lifting for you and compiled a list of the best snow and ice truck tires we could find. Now all you have to do is pick a set and drive.
How do Truck Tires for Snow and Ice Work?
Before we dive into our main content, let's talk about why you even need a separate truck tire for snow and ice. After all, tires are created equal, right? Not quite.
Driving on a cold and snowy road is much different from driving on traditional blacktop, and that means that your wheels interact with the road differently. Winter tires are designed to have better traction, grip, and braking power than other options, thus allowing them to operate better under winter conditions and keep you safe while driving. Here's how they do it:
Composition. The main difference between winter and regular tires is what they're made of. While traditional options will grow brittle and hard in the cold, truck tires for snow and ice are made from a special rubber compound that remains soft and pliable even in cold temperatures. A more pliable composition means better grip, better traction, and increased safety.
Tread. Dedicated winter wheels have a deeper and more aggressive tread than traditional alternatives. These unique tread patterns help improve traction when the tire digs into snow, and they can also increase braking power.
Siping and grooving. The best snow and ice truck tires feature siping — small slits and grooves in the wheel and along the tread — which offer more resistance and grip on slick or slippery roads and may help improve braking and stopping distances.
5 of the Best Snow and Ice Tires for Trucks
Nokian Hakkapeliitta Truck D
Nokian is a Finland-based tire manufacturer specializing in winter and all-weather tires, and it's obvious they know their stuff when it comes to cold weather. Credited with making the first (and best) winter wheels, Nokian has introduced the Hakkapeliitta Truck D tire, which is designed for heavy-duty winter use with a patented tread block and lateral siping for increased traction.
| | |
| --- | --- |
| Pros | Cons |
| Great tread resistance for regular wear | Higher prices |
| Low rolling resistance | Hard to find in the USA |
| Quiet operation | |
| Suitable for both snow and ice | |
Michelin Agilis CrossClimate C-Metric
For truckers who don't expect to see extreme temperatures, Michelin makes excellent all-season light truck tires for snow and ice. The Agilis CrossClimate C-Metric is one great example. Designed for both urban and regional journeys and rated for winter weather, this option is a great commercial choice that boasts shorter stopping distances and better traction than alternative brands.
| | |
| --- | --- |
| Pros | Cons |
| Siping technology for improved traction | One of the more expensive brands |
| Sidewall protectors for urban driving | Acceptable on light snow but not a complete replacement for a dedicated snow tire |
| Acceptable for dry, wet, and snowy roads | Shorter treadwear life |
| Impressive braking distance on wet and dry roads | |
| Comfortable and quiet ride | |
| One of the best-known companies; readily available | |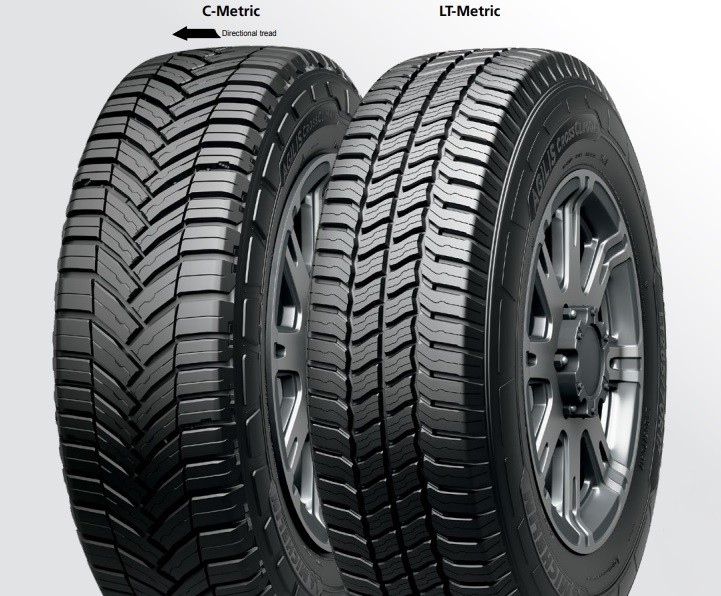 Bridgestone Blizzak LT
Coming in as a close second to Michelin is the Bridgestone Blizzak LT tire. This winter option is one of the best for heavy-duty trucks that haul frequently in snowy conditions, and it's got everything you could ever want in a winter tire.
| | |
| --- | --- |
| Pros | Cons |
| Special compound for water wicking | Another expensive brand |
| Ideal for ice and snow | Acceptable on light snow but not a complete replacement for a snow/ice-grade wheel |
| Great traction in various depths of snow | Poor tread life |
| Short stopping distances | |
| Good traction, handling, and braking on ice | |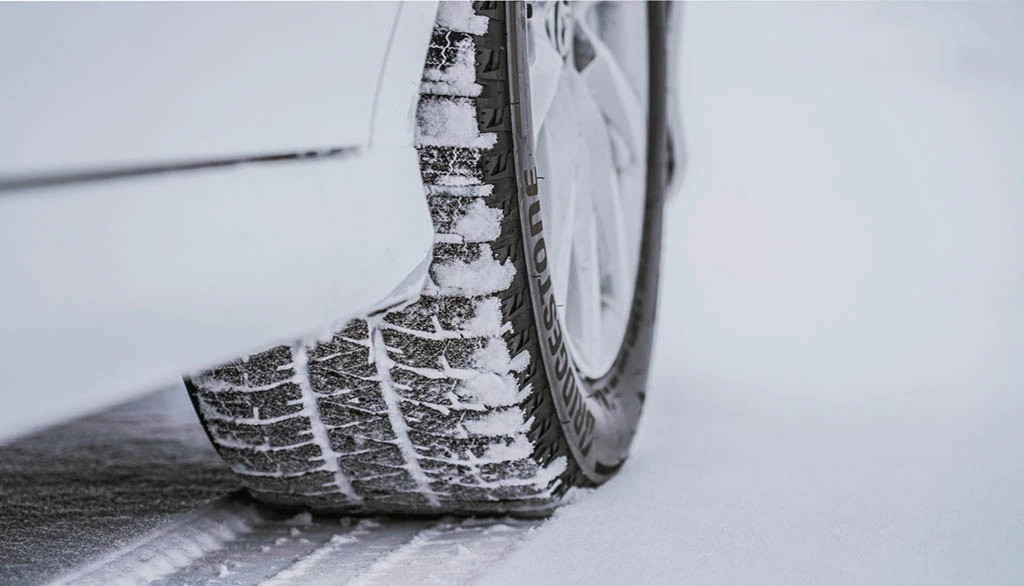 Goodyear WinterCommand (Light Truck)
Goodyear has a reputation for durable products, wide selections, and rigorous safety standards, making them one of the most popular choices on the market. The Goodyear WinterCommand tire is no exception.
| | |
| --- | --- |
| Pros | Cons |
| Multiple tread patterns for all terrains | Not ideal for heavy winter conditions |
| Made from an ultra-flexible compound | Limited sizes |
| Zig-zag sipes for better handling and cornering | No mileage warranty |
| Optional studs for greater traction | |
| More affordable prices | |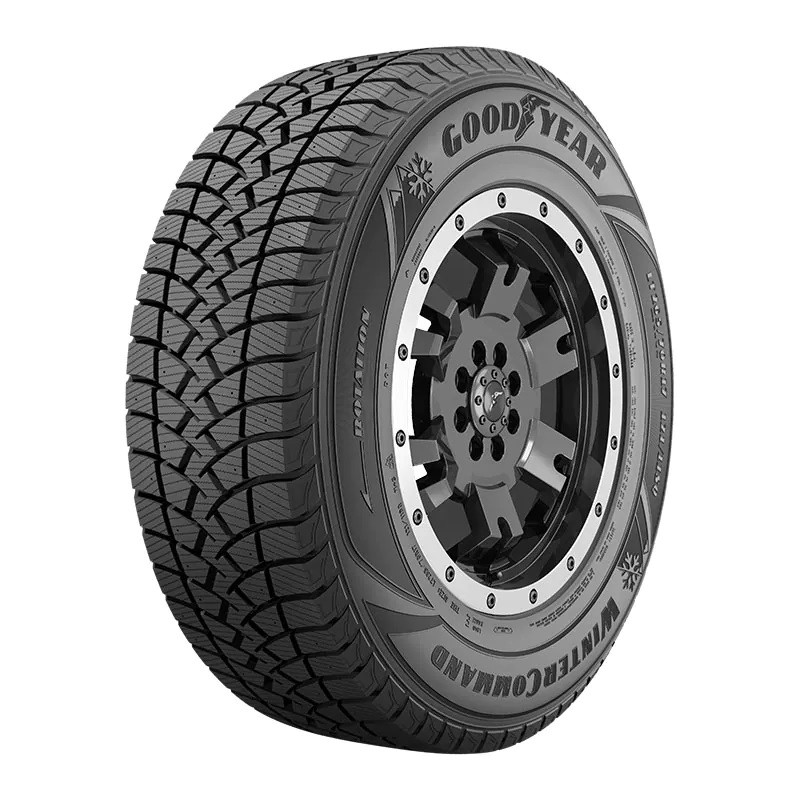 Firestone Winterforce LT
If you're looking for light truck tires for snow and ice, Firestone Winterforce LT is the way to go. These classics are still popular for a reason — with their great traction, impressive braking power, and durability, this option offers lots of value at an affordable price.
| | |
| --- | --- |
| Pros | Cons |
| Good traction on snowy, icy, and wet roads | More capable options are available |
| High performance on wet and dry roads | No warranty for tread life |
| Single-directional tread pattern | |
| Studs available | |
| Affordable and effective | |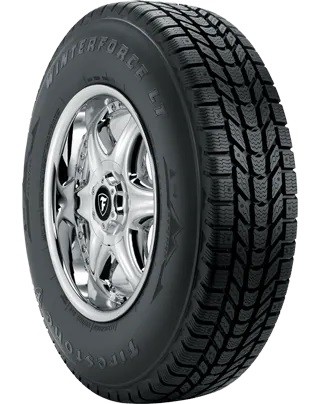 Of course, there are plenty of options out there to explore. The one thing to remember is that though winter tires may get a bit pricy, it's always a good idea to pick an option that meets your needs rather than just choosing the cheapest one. After all, safety should come first.
Can I Use All-season Light Truck Tires for Snow and Ice?
While you may be tempted to purchase an all-season truck tire for snow and ice driving, think twice before you do. These wheels may hold up okay to a bit of slush or some cold temperatures now and then, but they're nowhere near as effective as dedicated winter alternatives.
All-season options are most suitable for mild winter conditions. If you'll be driving through extremely cold and harsh snow, it's always better to invest in dedicated winter wheels. You can usually tell the difference between the two, as truck tires for snow and ice will display a small picture of a mountain and snowflake. If you do use an all-season truck tire for snow and ice, use extreme caution in extreme snow conditions.
How to Maximize the Benefits of Using Truck Tire for Snow and Ice
Choosing the right wheels is an important step to safer driving; using them correctly is the next step. Once you have the best snow and ice truck tires, implement these tips to maximize their effectiveness.
Use extra caution when driving in cold, snowy, or wet weather.
Give yourself extra room between vehicles whenever possible.
Remain alert to how other drivers are driving.
Don't overcorrect if you find yourself sliding.
Check your tire pressure and tread often.
Remove winter tires once it gets too warm for them and store them properly.

Logity Dispatch: Making the Road Smoother in Every Way Possible
At Logity Dispatch, your safety and success are our utmost priorities. Trucking may not be the easiest career, but we're here to help where we can. We may be known for our dedicated dispatching service, but we're also happy to help with everything from accounting and rate negotiation, to providing popular, helpful, and entertaining trucking topics on our blog.
Visit our site today to learn more about us or get in touch with one of our friendly representatives by calling us at +1 (302) 425-93-15.